Caledonia's Call: The battle of East Kilbride
Photo credit: Tofalis Photography
Outdoor ultimate returned to Scotland last weekend with the inaugural edition of Caledonia's Call, a UK Ultimate mixed tier 2 ranking event. The tournament saw a mix of new and established Scottish teams fighting it out on home soil. 
The final mixed ranking event of the year saw outdoor Ultimate finally return to an almost sunny Scotland in East Kilbride, with 11 teams battling it out in the first edition of Caledonia's Call. From the offset there appeared to be 4 top teams with 3 of these locking horns in the same pool.
Glasgow 1 were the 1st seeds going in to the weekend due to their ranking as the 2nd best mixed team in the UK and clear favourites from an outside perspective. However, captain Campbell had a tough job on his hands, as he was missing the Webb brothers, Audrey and some key Strathclyders (although they still had tall boy Tait).
Local imposters EKU (East Kilbride Ultimate) were making their debut with a team containing the very best of Strathclyde and Aberdeen university players making up two talented rosters of university national champions and World's players. Split fairly equally, with the Black Eagles contingent in EKU A, it was their goal to have both teams meet in the final.
Herriot Watt Alumni contained a host of GB and World Championship seasoned players looking to relive the glory of their university days. Elsewhere, Rogue Pandas were only a few players short of the Edinburgh university first team and definitely capable of damage, while the development squads of Glasgow 2 & 3 had enough talent to cause a potential upset.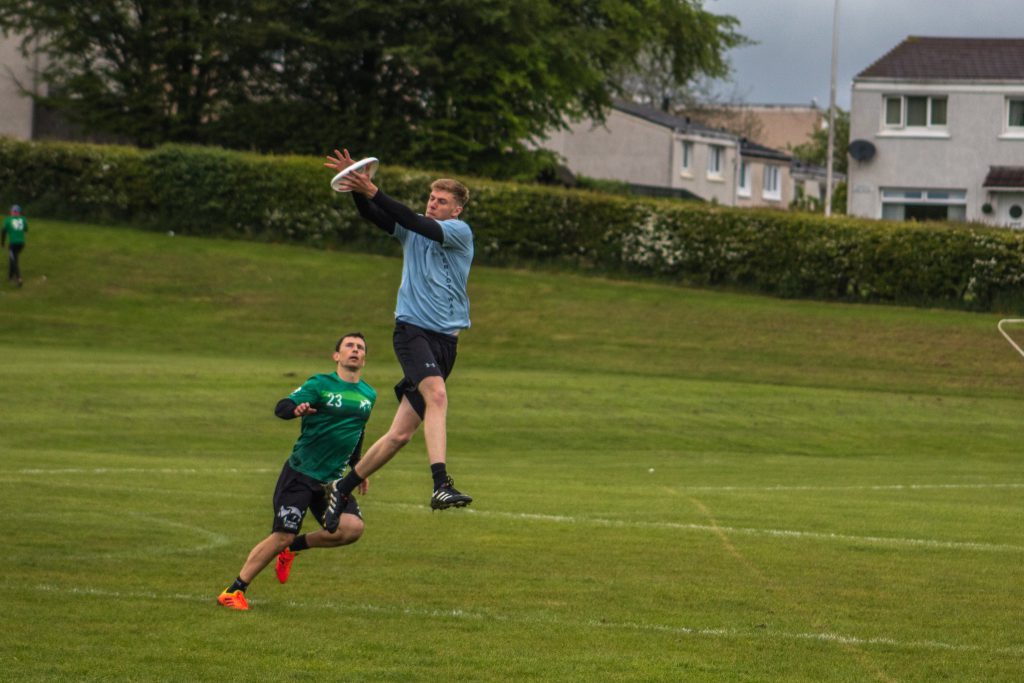 Pool A was definitely the stronger of the two pools containing EKU A, Glasgow 1 and Herriot Watt Alumni. With only the top 2 teams from each pool advancing to semis, someone was bound to go home disappointed. It was EKU A who took first blood, beating HWA 15-10, but not before going 5-2 down. HWA then had the unfortunate circumstance of playing Glasgow 1 immediately after that loss. A lack of healthy legs cost them as a confident Glasgow won 15-7 setting up a game to win the pool on Sunday morning against EKU A. The first point of the game featured a bewildering play, following a deep pull from EKU. Trapped in the back of their endzone, Glasgow made an upfield pass to a wide open Andrew Hunter, who was wearing a different coloured top because he was on the other team. Callahan! The rest of the game was more tightly contested but EKU A held out to win 12-8 and take the first seed from Glasgow.
Pool B went a little more to script with EKU comfortably topping the group. The fight for the remaining semi-final spot was won by Glasgow 2, after narrowly beating both  Edinburgh based teams, Rogue Pandas 13-11, and Sneekys 12-9.
The first semi-final saw undefeated EKU A take on a development focused Glasgow 2. Using their wealth of experience, EKU A took the match 15-8 and booked themselves into the final. The second semi saw an interesting matchup between the as yet untested EKU, and Glasgow 1. Glasgow started strong with multiple breaks at the beginning of the game silencing the loud chants of EKU (mainly Gio). However, late on, with the game sitting at 11-10 in Glasgow's favour, EKU found their voice once more. With a big sideline starting to develop, they looked good to take the game right back to universe point. A long point of questionable Ultimate ensued, but in the end Glasgow pulled through to set up a rematch with the other EKU team.
The last match of the weekend was a great showcase for Ultimate in Scotland with several dog walkers looking up to see what was going on before swiftly leaving. EKU A were again too strong for Glasgow, going up early in the match and sealing victory with a trademark whang-it-to-the-endzone huck from Mackie and a horizontal score from Andrew Hunter. 
Final standings:
EKU A

Glasgow 1

EKU

Glasgow 2

Heriot Watt Alumni

Rogue Pandas (spirit winners)

Glasgow 3

Sneeekys

Iron Mandelas

Farflung 2

Farflung 1
UKU Rankings
It's worth noting that teams playing this event earned UKU ranking points under the new 2019 scoring system. The Black Eagles contingent of EKU will revel in the knowledge that their victory in the final has kept Glasgow off the top by just 0.8 ranking points. It's nice to see 2 Scottish teams up top though! EKU go straight into 11th spot thanks to the strength and performance of their split squads and several other teams make it on to the list for the first time. Sneeekys and Glasgow 2 continue to climb the rankings and Glasgow 2 & 3 are now ranked higher than any other second teams. Go Scotland!