From B-Tour to Worlds: The Glasgow Ultimate Story Part II
Part II: Breakthrough
Written by Shaun Webb.
At the start of our second season we were quite aware of the challenges that lay in front of us. We had successfully navigated the first hurdle of creating a team, completing a season and fulfilling our goal of reaching the A-Tour. However, we had seen far too many teams form around a group of keen/excited/talented players only to fall away in a difficult second season. We knew that continued success would now depend on results and we would be judged by our previous performances, a pressure that hadn't existed in our maiden season.
We looked at a lot of the top UK teams that were essentially pick up squads surviving through reputation. They had the luxury of hand picking top talent from a wide area, relying on other clubs and universities for development and knew that players would travel or even relocate to be part of their season. If you want to compete at the top that's probably the way to go, you don't see many elite sports teams made of homegrown talent these days. However, we weren't interested in starting another Fusion or Scottish super squad, we wanted to build a player base from the ground up and raise the competitive scene in Glasgow to create more opportunities for local players. We were happy to trial players from out of town if they could commit to practice sessions but we decided our strength would be having a core squad that trains together multiple times a week. Geo based teams need more of a grassroots plan to survive so we also put more work into trying to form larger training squads, running skills sessions, coaching at university level and putting on local leagues, tournaments and friendlies. We figured other cities would follow suit and that the Scottish community would be much stronger for it.
Determined to push on, Phil and I set more goals for the team and also as a club. In the short term we wanted to maintain our A-Tour status, focus on recruitment and development and try to create more opportunities for female players to get involved with the club. Long term we wanted to have teams competing in the top 8 of UK Ultimate and attempting to qualify for European competition. It was the year of WUCC in Italy so we also had an eye on being in contention for the 2018 world championships. We knew we had the potential to reach that stage if we could maintain our trajectory but we were also aware that it might be beyond the peak playing years of two old men. 
Graeme McDowell had recently moved to Glasgow after graduating from Dundee University. We knew Graeme well from our Fusion days and he was influential in building the Dundee team that dominated the Scottish uni scene for several years and performed well nationally. Due to this connection we were fortunate to recruit other Dundee players such as Neil Henderson, Chris Hunter and Chris Knudsen in the first couple of seasons. The first thing Graeme did was to get everyone excited about going to the gym and to emphasise the importance of strength training. Up until that point most of our conditioning was track or field based with quite a lot of core, bodyweight exercises, running and agility. People went to the gym and did their own thing but it wasn't always ultimate specific. Graeme and Chunter helped us to put together a basic S&C program for the team to follow as well as some introductory videos and resources to get people started. At the same time Phil and I formalised all the workouts, skills sessions and training documents we had and made those materials accessible and available on our website. Personalised training regimes are definitely the way forward for elite players but I think we have a pretty good starter pack to learn more about the game and get to a competitive level.
Meanwhile, over at Farflung (Glasgow University Ultimate club), Rory Curran took charge of captaincy and started to re-instate a first team atmosphere that had been missing for a few years. He managed to drag the  Glasgow uni boys back into division 1 contention with solid leadership and an arsenal of big throws. Around the same time, Phil and I put serious effort into planning and coaching the Farflung club sessions to try to develop the new recruits. Together this culminated in a new generation of exciting young players with ready made links to our club.
Phil was also involved with coaching over at Strathclyde where a few of the Dark Horses had also stepped up their game. Jonny Ferry took it upon himself to start club strength and conditioning sessions and joined ex player Mark Simpson in that years batch of GB under 23 representatives. In subsequent years several other players were inspired to follow a similar route and Strathclyde currently have one of the best university squads in the UK.
From my experience, a little success goes a long way. When younger players have these types of role models they want to emulate them; when they see a team doing well they want to be a part of it. It motivates players to get to the first team, play club ultimate and trial for GB. If that path is laid out in front of them then their goals become realistic and attainable.
For season 2, Phil and I stepped down from GU captaincy and handed over the reigns. It was an important move for us in becoming a club and not just a team with a limited lifespan that would dissolve when we decided to hang up our boots. We set up a tactics and training committee so that several people were involved in forming our systems, designing our plays and planning our sessions. Again, it was about giving that knowledge to others so they can pass it on. Since then we have always insisted that some of the people on this committee remain the following season to provide continuity and experience.
Jonny Ferry took control for the 2014 season and spurred us on with his rallying Northern Irish speeches, his oversized calves and his unorthodox training regime. We also put together a women's committee, with Audrey Melancon-Fournier in charge, to generate interest in a Glasgow based team.
We started with another strong indoor season in order to recruit early and continue momentum across the off-season. We won the Scottish Championships in both open and mixed and sent men's and women's teams to Nationals finishing 3rd and 8th respectively. It was the first time a Glasgow women's team had competed and a great result for both sides, generating plenty of excitement for the upcoming outdoor season. If you are starting a new team from scratch, indoors is a great way to form a core group of players to build a squad around.
By the time Spring came around we had enough girls to enter all three Mixed Tours, allowing many players to get their first taste of Tour. We focussed primarily on MT1 as it was well positioned before exams and holidays and managed to finish 11th with a last game win over Scottish rivals Black Eagles. It would be the first of many encounters.

We were also training hard with the Open team and inducting new recruits with friendlies against local opposition. We took a bunch of fresh faced students, including a beardless Cameron Agnew, to a pre-season game in Edinburgh where we managed to defeat a very experienced Sneeekys team, despite having very few of our regulars. That win reassured us that we were doing the right things, that our team approach was working and that we weren't relying on specific individuals. It also gave us confidence going forward to bring in new players and give them a shot on the team.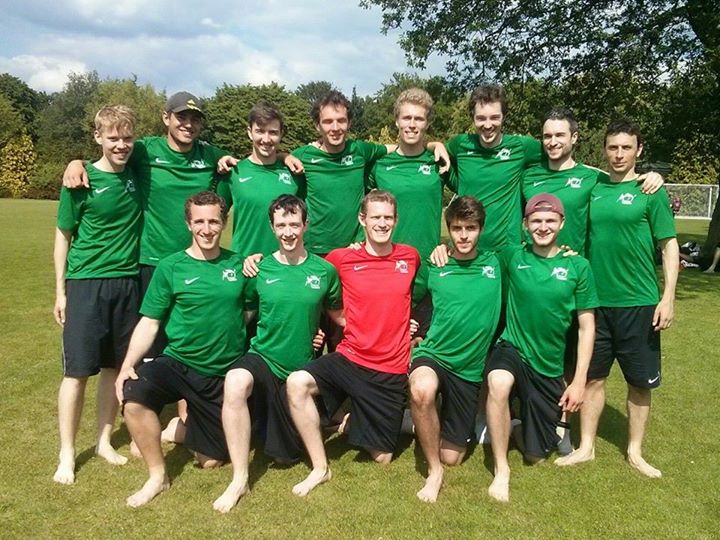 Tour 1 was once again our main focus and we ended up 16th in a competitive international field. Performance wise it was a step up from the previous season, we finished as the 9th best UK team and were pretty happy with our progress. The team that went to Tour 2 was more focussed towards development and although they didn't perform quite as well the experience they gained was invaluable. It was also a landmark event for the GU women's team, coming in 18th at their inaugural outdoor tournament.
I decided to sit out most of the tournaments that year, instead focussing on a shorter season in the build up to regionals and Nationals. It was all in the retirement plan, spending more time at home at the weekend, training less often and peaking for 1 big tournament each year. In the past, the Scottish regional qualifier had always been a non-event with one club completely dominating proceedings, but we knew this year was going to be different. NEO (North East Open) had been making noises at the UK Tour working their way up from bottom of the B-Tour to 29th, then 17th, then 8th. The team contained an ensemble of former Fusion players and young talent from the North East (Dundee, Aberdeen, St Andrews) including the now familiar faces of Andrew Dick, Alistair Robb, Pierre McCarthy and Danny Strasser. It was an impressive first season and they had managed to outdo our previous efforts by breaking into the UK top 8. So far we hadn't faced them competitively but we knew there would be a showdown at regionals and the upcoming fixture loomed over us for a few weeks. As reigning champs we were looking to complete a double double (indoor and outdoor) of Scottish championships and there was certainly a bit of pressure from our point of view. Up until now we had been the young bucks, challenging the throne, but now the shoe was on the other foot and we were defending a reputation.   
We weren't the best prepared for the tournament, having struggled once again to muster numbers for training across the summer, and it didn't start well for us when we began the day a man down. We had the core of our team together though and made it comfortably to the final where a small crowd gathered to see who would come out on top. NEO started hard, as expected, and went a few points up early on in the match. Our team was known for fighting, especially when down in games and we managed to claw back the scoreline and take half. We had a lot of vocal support to spur us on and we took the first point out of half to extend our lead and put ourselves in a winning position. In the end we had 3 chances to win the game but we let the situation get the better of us. NEO ramped up the intensity and in turn our offense got jittery, looking off hucks and turfing reset passes. NEO were a little bit bolder when it got to sudden death and scored with something spicy to win the match and qualify for Nationals. There's a video somewhere but I couldn't find the link. The game was pretty scrappy, there were overly physical bids, some interesting calls and a few members of the crowd that got a bit too involved. But despite all that, and the result, it was a fantastic game to be a part of. The atmosphere was incredible and I don't think there has ever been a competitive match like it in Scotland. It's a real shame we don't have a bigger club scene and more local outdoor tournaments, I'd love to play more games like this on home soil.
It was a really disappointing result personally as I'd trained hard for 2 months and ended my season playing only one competitive match. I felt strong and in good form and it was a bit of a blow to know there was no more Ultimate on the horizon. It was a bit of a turning point, not the game I wanted to go out on, and I made a decision to continue training across the off season and commit more the following year.
2014 had been a big year for the club both on and off the pitch and although we failed in our attempt to get to Nationals, the work we put in was about to pay off. Jonny left Glasgow but continued to play with us and Neil Henderson was appointed as captain for 2015. What Neil lacked in experience he made up in leadership. His approach was direct, honest, positive when required and harsh when we needed a kick up the arse. He was a great motivator for the team and led by example with his own gritty determination.
2015 was a breakthrough year that started with the best of team bonding exercises (a category 5 storm in Cardiff) and ended with us beating national teams in both open and mixed. I won't go into much detail as I've written in depth about that season previously. Being a post WUCC year and the start of a GB and u23 cycle we knew there would be less focus on club ultimate and we sought to take full advantage. The mixed season went extremely well, finishing 2nd overall behind Black Eagles and winning a Tour title along the way. We hadn't trained specifically for mixed and we had used the season to field a lot of new players throughout. The results gave us a lot of confidence and momentum as we moved forward to the open season.
Neil still owes us all a meal after promising to buy dinner for the team if we topped a challenging looking pool (Pelt, Chevron, GBu23, GB Masters) at Tour 1. We managed it with a game to spare, growing in confidence with each win, including a satisfying demolition of the u23 team that some of our players had failed to be selected for. Our run eventually ended against GB Open in the semi finals and we finished as the second best club team behind Fire. The tournament was also notable for the presence of a competitive women's squad that finished 16th and a second team full of rising stars.
Tour 2 in London was the biggest tournament in Europe that year with several European club and international teams participating. A battling win over Ranelagh in the rain and a competent victory against Emo got us through a tough group, despite a narrow loss to the French national team. We faced familiar foes Manchester in the quarter final, it was fantastic to see both of our teams reaching the top 8 after starting together in the B-Tour 2 years previous. Having made semis at our last 3 events (mixed and open) we were quite comfortable with the pressure and confident about winning the game. My main memory is of one of their players kicking a rubbish bin to pieces on the sideline, I think it was our composure that allowed us to prevail again. In the semi finals we defeated the Irish national team, it was probably our best performance of the tournament/ever. I think any sense of nerves or intimidation had gone out the window and we were just ready to compete on a 1 to 1 level. The same can't be said about the final where we found ourselves 8-1 down to the GB O line. There was definitely an air of complacency having made it that far. We had also lost one of our star cutters, Cameron Agnew, to injury. We asked Cammy to do a lot of running with a smallish squad that season and he didn't always make it to the end of a tournament. We managed to save a bit of face in the second half to claw it back to 15-11 but we were never seriously in contention. To be honest we were happy just to be there, we were unlikely to beat GB and we knew no matter the score we would still be pleased with our overall effort. For the record, this is not the way to approach a final, I've seen it happen a few times now and it's difficult to prepare players for their first big final, particularly as an underdog. Maybe it helps to get the first one out the way, it makes you determined to get back there and be ready to compete. So we learned our lesson and moved on.
A lot of our success that year was down to confidence, experience and the work we put in over the past two seasons, but we also made a few strategic adjustments. We were pretty happy with our offense (we're still using the system today as well as many of our plays) but defensively we had been relying on good fundamentals, the occasional big play, and a pretty predictable junk zone to get us blocks. Training that year really focussed on playing defense as a team, implementing new strategy and a couple of new zones. If you want to make it to A-Tour get fit. If you want to break into the top 8 teach your team how to play defense. Teach proper defensive strategy, teach your players to be aware and to co-operate and play defense as a unit. Go into every d-point with a plan. We noticed early on that the top teams were the ones with the best players, the best athletes. Below that there was a drop in quality but the teams that did well were the ones that trained hard and had good strategy. We were able to make that leap with an athletic team that played confident offense and knew how to put the opposition under pressure.
After finishing 2nd and 1st (international teams don't get Tour points) we were well positioned to take the overall Open Tour title, however we'd already planned to skip the 3rd event to attend Dublin's Golden Cup with our mixed team. Our women's team was progressing well but we had a small core of really strong girls that had been together for a while and wanted to play at a higher level. The mixed team allowed them to do that and we added the likes of Nicky Shaw, fresh off a season with GBu23, and Kim Marsh, a promising student rookie. It was one of the best squads we have ever assembled and we played some really good ultimate that weekend although there were low points as well. Upon reflection I think I was a bit too focussed on results, sometimes the expectations I have for the team can outweigh the joy of just playing. I was thinking too much about which games we should be winning and where it was acceptable to finish rather than just enjoying the competition. We did pretty well though and ended up 5th beating both Denmark and Spain and finishing as the highest placed club team. The highlights were taking on GB and Ireland and letting our squad test themselves against the best in Europe. We spent most of Monday relaxing in the Guinness storehouse and it was fantastic weekend overall.
The season rolled on and we finally got a chance to avenge our defeat to NEO at Scottish open regionals. Unfortunately, things had fallen apart a little for NEO and they had spent a season cascading back down the Tour rankings. I think there was a bit of a power vacuum after their captain left and no one around to take charge and properly organise the team. We managed to play them a few times that year in a mini Scottish Open Tour (Glasgow, Sneeekys, NEO) but they were unable to mount the same challenge and it was sad to see such a good local team collapse. They nearly had the last laugh at regionals though when their small, pick up style squad took a 3 or 4 nil lead in a 45 minute game. There were definitely a few looks of panic amongst our side, in stark contrast to Benji Heywood's grin at that point of the game. We stuck to our guns though and eventually dug out a comfortable win to make sure we would return to Nationals. Cameron Mackie and Iain Campbell got their first taste of first team action and we even got Noah to play a point in a group game against our seconds to become Scotland's youngest Ultimate Champion. Up and coming Dundee players Andrew Dick and Alistair Robb were playing with NEO that day and we immediately set about recruiting them for our Nationals squad.
Nationals is a bitch. That's effectively how I summed up the season review for 2015. If it doesn't go your way you have to wait a whole year to put it right. Club teams were back to full force but we fancied our chances of claiming a Euros qualification spot by finishing top 5. We started well but had an unfortunate loss to Brighton in a game of downs (down 10-5 ) and ups (up 13-12 in a game to 14) that more or less ended our chances. It was a great experience for some of the newer members of the team though and definitely helped to build excitement for the following year. It was the end of an amazing, unprecedented season but we were left feeling a little deflated. It was clear at this point that if we wanted to continue to progress we would have to restructure our season to focus on Nationals. We had built a squad capable of competing with the top teams in the UK but it was time to take that extra leap, to the European stage.
COMING SOON: Part 3: The road to Euros, Super Saturday and a top ten finish!