From B-Tour to Worlds: The Glasgow Ultimate Story Part III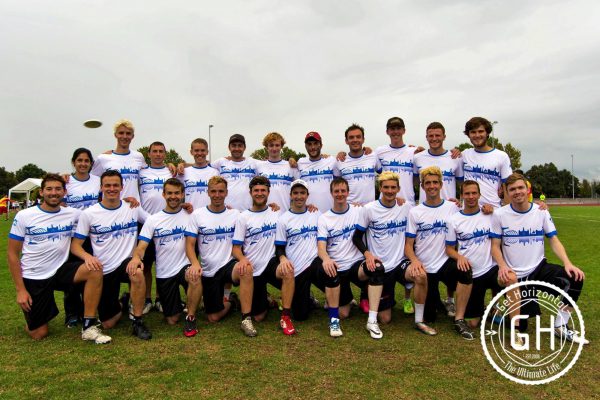 Part III: The Road To Euros
Written by Shaun Webb.
We approached our 4th season with a new mindset and more ambitious goals following a year at the top of the UK mixed and open tours. Successive end of season failures meant we were more determined than ever to succeed at Nationals and earn a ticket to the European championships. 
Chris Knudsen stepped up to take the open captaincy in 2016. He had been a vital member of our squad for the past two seasons and a consistent improver, bringing some big blocks and stylish handling to our defense line. Chris had a quiet, although confident demeanour and I don't think many would have picked him as a natural replacement to lead the team at the time. But I remembered having a chat with him on a bus ride in Dublin the season before about the organisation of the team and potential new tactics and I was confident he would bring a lot of thought and a new perspective to the role. We already had several players who could speak up and get a message across so we weren't in short supply of inspiration or motivation. Once elected, we had further lengthy conversations where we discussed what had and hadn't worked previously, the intricacies of managing the team and went over some ideas Chris was keen to introduce. He also set about capturing a few new signings in the transfer market, securing deals for Alistair Robb and Andrew Dick who had joined us at last years Nationals, and bringing in ex NEO players Danny Strasser and Pierre McCarthy.
In previous years we had always been conscious of the drop in quality at the fringes of our team and playing a lot of points on a small side seemed to suit our players battling characteristics. Chris was adamant that we needed to make the change to playing with a large squad, it was the way all the other big teams were run and it was a point we had to concede, despite the reduced pitch time. Our squad had more depth than ever before and ultimately it was our responsibility to make sure that every player on the team was capable of fulfilling a role. From the get go Knudsey announced that our only goal that season was to get to Euros, he made everyone believe it was going to happen and outlined exactly what we needed to do individually and as a team to get there. By selecting a training squad of 32 players there was a lot of competition for the ~21 spots up for grabs and those that didn't perform knew they would end up playing B or C Tour with other pick up players.
Thanks to our reputation and recent performances, over 80 people applied to be part of the squad and we put about 50 of them through a trial. There were plenty of tough decisions to make in selection but we were really happy with the quality overall. The new look team consisted of several of the experienced heads from previous seasons, a few familiar faces joining us from other club teams and a whole bunch of local university students that were ready to break out into the club scene. Jonny Ferry and Graeme McDowell were notable absentees from previous years, both moving into semi retirement, but Conor Docherty was back for a renaissance season and another shot at glory. Looking back, one of the highlights of this year was getting to play high level Ultimate with Conor again, we've shared a lot of good moments on and off the pitch for many years. It was also great to play along some of the uni students I had coached for several years and to see their hard work come to fruition. At Farflung, Iain Campbell, Axel Ahmala and Duncan Webster were the cream of the crop and had all featured for GU in some shape or form over the last few seasons. The trio were now ready to step up and become major players on this squad. I take less credit for the talented Strathclyde boys (Cameron Mackie, Jonny Shaw, Jake Burgess, Ali McNeil) that forced their way into the team although some of them found a path to club ultimate through our Summer League so it was great to be able to recruit them.
With the large playing squad, several of whom lived outside of Glasgow, we decided to put a bigger emphasis on longer monthly training sessions. It was another good move, we still had weekly practice for the local core to build chemistry and form but the big sessions were more focussed, people made sure they were available and we were able to cover a lot of ground. Our lines also became more specialised with players taking on specific roles for the team. Our O line had handlers like Ali Brown and Neil Henderson who could keep the disc moving and break forces at will, moving the disc on to primary cutters such as Cameron Agnew or Andrew Dick while big receivers like Cameron Mackie set up deep strikes towards the endzone. We had selected several players on the D line purely for their athleticism, ability to get blocks and strength in the air, as well as plenty of pace and experienced heads.
Nationals and Euros weren't the only big tournaments I was preparing for that year. I had decided to play for the Great Britain Masters team at the World Ultimate Championships in London. I had never been that interested in trialling for GB teams in the past due to the cost and travel involved and a lack of patriotism given my New Zealand heritage. However, this was a great opportunity requiring minimal commitment and I knew the experience would be invaluable, particularly if I had coaching aspirations in the future. Phil had been involved with the Masters team for a few seasons, playing the previous championships in Japan as well as Euros and beach Worlds and I knew a few of the team from playing with or against them over the years. I really enjoyed being a new face on a team again, having to prove myself at training, learning new systems and getting to know the squad. It was liberating to just go out and play with a bunch of experienced teammates without being involved in the coaching or administration of the team. I played D-line, which was also a bit of a change for me and I just went out, ran hard and enjoyed every game. Playing with a different team and taking on new roles is a great way to develop or to refresh your motivation. I had a similar experience playing for 6 months in Korea back in 2007 while still part of Fusion and I returned a much more confident and well rounded player. It's easy to be complacent sometimes with Glasgow when I know my place isn't on the line. I have more of a senior role and sometimes that means I'm more focussed on what others are doing than working on my own game, so it's good to be let loose every now and then. We played a few warm up tournaments then went to London and won a bronze medal. We weren't quite good enough to beat the US or Canada but we gave it a good shot and convincingly beat our other opponents. It was a fantastic experience and great to share another Frisbee memory with my brother.
I was with the Masters team at Tour 1 that year and I remember playing on the first day a few pitches over from Glasgow. The boys were taking on a Sneeekys (Edinburgh) team that featured many of the male stars from Black Eagles and I spent more time looking at that score than the one on our pitch (we were winning comfortably). I could tell from the distant body language that it wasn't going well, heads were down as Sneeekys were getting louder and using their deep connections to devastating effect. Glasgow lost the game and were clearly disheartened as they were the higher seeded team, expected to make it through the group and hadn't lost to Sneeekys before. I think there were a few teething problems with people getting use to their roles, learning new connections and managing expectations with a large squad. By the end of the day however they had found their groove and Phil and I watched them win a high spirited game with plenty of expansive offense. It was an important result that gave them a chance to crossover into the top bracket. We followed that with a big group cool down, joined by the women's and seconds team, in warm evening sunshine withgood tunes. It was a memorable moment being surrounded by more than 40 Glasgow players at Tour.
Phil and I had earned a lie in by virtue of being in the semi-finals but we went down to the pitches early to support the team. We knew from experience how important it was to start the season with a good result and we wanted to give them every advantage possible against a very capable Devon squad. We joined the boys for the warm up, kept the noise high and ran up and down the sidelines throughout the match. It was great to see on-field partnerships developing, the D-line handler trio of Alistair Robb, Jake Burgess and Chris Knudsen was particularly exciting. Having a competent handler setup on the D-line was big for us that season and noticeably increased our conversion rate on turnovers. Glasgow eventually won the game in sudden death, it was a big confidence booster for the team and they put in great performances for the rest of the day to end up a very respectable 5th place.
Phil and I rejoined the team for Tour 2 although I was hampered by a hamstring injury and only played a handful of points. We started with comfortable wins against Flump and a depleted Devon team, then took a serious beating from Chevron. It was probably the easiest route we've ever had to a semi final but we all knew we deserved to be there. The infamous Nottingham wind showed up for our semi against Clapham on Sunday. We traded with them for a long period of the game and even looked more capable going upwind. Alistair Robb's cross pitch hammers into the wind were the highlight of the game and no doubt helped him to win MVP that season. Clapham eventually took the first upwind as the breeze died a little. We managed to get a few ourselves but ended up losing by 1 or 2. It was the first time we had really competed against a Clapham or GB team as equals, there was no fear or intimidation, everyone just fought hard, played aggressively and took on the challenge. We realised at that point that we were finding a new level, distancing ourselves from the pack of contenders and getting closer to the top two. We emphasised this point by hammering Manchester 15-3, largely thanks to the zones we had worked on over the last year.
It was great to see the team producing these sorts of performances and backing up our results from the previous season. I was disappointed not to be involved more but it was encouraging to see all our new players step up and carve out their own identity on the team. I had to miss Tour 3 as well but we sent a skeleton team to complete an Open Tour for the first time in a few years. It was always difficult to find enough bodies at the end of summer to travel to Cardiff but the boys that went down took 5th and secured 2nd spot overall at Tour, our highest ever finish. They even took Clapham to sudden death and nearly won it, but someone else will have to tell that story.
The biggest disappointment that year was the mixed season. After winning a Tour the previous season and finishing second overall we were hoping to repeat that success but ended up floundering in the 9-16 bracket. There was definitely a bigger focus on Open and Women's that detracted from any mixed trainings as well as a disconnect between our male and female captains which meant the team wasn't as well organised. It's another lesson we've learned over the years, that at the moment our club isn't big enough to commit fully to all divisions. Going forward we knew we'd be better off electing dedicated mixed captains rather than assuming the Open and Women's captains would fulfil the role.
It was a much more promising season for our Women who took 12th and 13th at the two Tours they attended under the captaincy of Katie Flight. Katie had been playing with the GB Junior squads for most of her teenage life and her mum had brought her along to several Glasgow training sessions over the years. Katie was now at Strathclyde University and playing with us full time, she had a lot of experience for someone so young and disc skills that all the girls looked up to. Playing alongside talented regulars such as Audrey Melancon-Fournier, Lulu Boyd and Nicky Shaw as well as a host of promising university players, they managed to storm into the top 16 of Women's Tour and beat some well established teams in the process. The squad revolved around a set of core players who were a level above the rest in terms of ability and commitment. There was definitely a sense of disappointment from them that we hadn't been able to make more of the mixed season as they all wanted to play at a high level. In the end they sent a small squad to UK Nationals and finished sixth overall.
The men also moved onto Nationals having successfully navigated a bye at regionals by being the only remaining Scottish Open club team (sad times). We were pretty much at full strength apart from a few niggling injuries and the loss of of Harry Glasspool to the mixed division. Harry had been with us since the beginning and had always been a star receiver so it was sad to see him go. He had recently moved away from Scotland though and was now a captain for some team called Smog who were starting to make waves of their own.
Nationals was the focal point of our season, the moment we had been building towards for 4 years, so naturally we started by chumping it against Kapow. It was an unexpected loss going against form and far from the ideal start for us. I don't think we were overconfident or under prepared, it was just one of those games where nothing worked out for the first 5 points. We clawed our way back with some impressive blocks to take it to sudden death but lost out in the end. That defeat eventually put us outside of the top 4 at the end of the day and we were forced to take the back door route to try to claim the 5th qualifying position.
We started day 2 with an emphatic victory against Manchester to move back into the top 8. They were clearly dejected, unfortunate to be drawn against us after our failure on day 1 and we knew how they felt having been in their position a year earlier. Next, we faced Brighton in an 8 vs 5 clash to attempt to move into the playoff game. Most of our squad remembered the loss we suffered to them the previous season so there was no lack of motivation. We won this one pretty handily as well and I think they were a little too reliant on throwing hammers to their main receiver.
And so our moment arrived, we'd put ourselves within a win of qualifying for Euros and it all came down to the last game against EMO. The way we were playing and the way we had played all season it should have been a straightforward match. It was a game where we felt on top the whole time but somehow couldn't pull away on the scoreboard. EMO managed to stay in touch throughout by constantly looking to their star receivers and at one point managed to take the lead near the end of the game. For us though, there was a feeling of destiny and certainty that we would somehow win the game, we had spent so long believing we were going to Euros that not qualifying was impossible to comprehend. We just kept fighting, it didn't matter how good or terrible the play was as long as we continued to get stuck in. Matt Tomlinson came up with a huge layout block and Duncan Webster got a critical foot block to put us back in the lead. We went out on offense at sudden death, played the ropiest point ever but somehow managed to stick it into the endzone and come down with the disc. I remember thinking that we should have been elated but the celebrations were subdued, in truth we were just relieved. We hadn't done it in style but we'd achieved what we had set out to do at the start of the year and now we all had a holiday to look forward to!
EUCF 2016 was held in Frankfurt, Germany. It had been 5 years since Phil and I last competed at Euros and we were extremely proud to have made it back with a team we had helped to build. Over four years we had set up a club, developed a competitive local team and risen to the top echelon of European Ultimate. It was also exciting just to be surrounded by so many good players, we had spent the early years doing a lot of teaching and conditioning but now training was more about drilling and competing against each other at a really high intensity.
Euros was a new experience for most of our squad, we went into the tournament with few expectations but with something to prove after a lacklustre result at Nationals. We didn't know much about our opponents and I think that helped us to play our own game, uninhibited by reputations or previous results. We opened with a 15-13 loss against a very experienced Catchup Graz team from Austria and came away feeling like we'd missed a chance. It was a reassuring performance though and we cut out the nervy errors and got our long game in sync to beat Wall City of Berlin in game 2. That left us facing Freespeed, one of the top teams on the continent, needing a win to have any hope of progressing to quarter finals. We lost 15-12, but we traded for most of the game and certainly had our chances, it was another confidence booster against a team that eventually ended up 5th.
Although I had trained with the squad all year round I hadn't played much competitive ultimate with them so it was really good to be back in the fold. The connections on the team were well formed and I ended up slotting in as a continuation cutter. It was a little weird at first, being used to playing as a primary handler but I had a lot of fun that day letting the other boys do the hard work then using my speed to rack up a ton of points. At the end of day 1 there was definitely a feeling that we could do more, we had tested the water and now we were ready to swim. Although we were officially out of the main draw we still had a chance to finish as high as 9th and finishing in the top 16 was now definitely on our minds.
Day 2 started well for me when I managed to play dumb and avoid a fine from a German police officer for driving through a no entry sign with one too many passengers in the back seat. Others weren't so lucky. It got even better when we beat INNsiders of Austria in sudden death to cross into the top 16. It was a tense match that swung both ways throughout but we were resolute and determined and finished the game really strongly. They were a little shocked in the end to be beaten by a team they'd never heard of, that had qualified 5th in the UK. We faced FWD Vienna next, our 3rd Austrian opponent of the tournament and another stalwart of the Euros scene. By this point we were just having fun, our offense was virtually unstoppable and when we did turn over we used our zone to good effect. That season our O line rehearsed setting up a containing zone off of deep turnovers. It worked well on two fronts: Opponents D line handlers were often less experienced and it forced them to play a lot of passes with pressure around the disc. It also meant that our shorter or less athletic O lines had a good alternative strategy to man marking that wouldn't leave us exposed to mismatches after a turn. We had a lot of confidence in our defense on both lines which allowed us to let loose a bit with our offense and play without fear. We won the game 15-11 to move into the top 12 with a ton of confidence, energy and momentum on our side.
The heavens opened as we warmed up for our last match of the day vs the the Finnish team Otso. The difference in attitude was clear between the teams, we were riding high and didn't give a crap about weather while they started the match very subdued and drop a few discs in the slippery conditions. Once we got on top there was no stopping us, we were loud, energetic and celebrated every point on the way to a 15-8 win and a place in the 9 vs 10 game. It was one of the most enjoyable days I've had playing Ultimate and we hung out at the fields for a while after just to soak it all in. I couldn't help notice several parallels with my first Euros with Fusion where we sent a young inexperienced team, took a few games to find our feet, learned a few lessons, then went on an unstoppable run to finish 10th.
The following morning we faced a Chevron team that were out to prove a point. They had narrowly missed out on quarters and were keen to show that they didn't belong in the bracket below. The less said the better but we had a shocker and they were clinical and professional and beat us 15-4. I won the MVP vote for the game simply for being on the pitch for a lot of points and completing a few passes. It was a little embarrassing but to be honest the difference between 9th and 10th wasn't that big a deal for us and we celebrated our top 10 finish in style. There was a big gap in the end between us and the other teams we were use to playing at Tour (apart from Chevron and Clapham) and we were pleased to have put in the performances we had hoped to find at Nationals. Knocking on the door of the top 8 in Europe was no mean feat for a first try, especially for a local team only 4 years in the making. We felt like we'd finally broken free of the chasing pack and established ourselves as the 3rd best UK team, ready to step up and contend with the top 2 in coming seasons. Our success was born out of hard work off the field, creating a thriving first team environment, and investing in development. The only way was up, or so we thought…
COMING SOON: Part 4: Our open dreams fall apart, the switch to mixed, heartbreak at Nationals, the build up to World Ultimate Club Championships.