Scotland Dominate at UMWIN 2018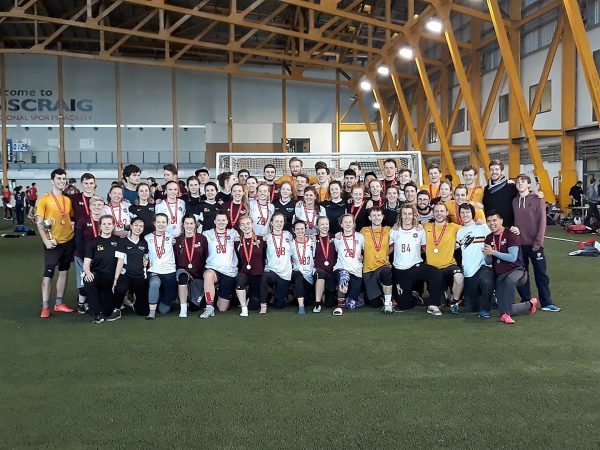 A very exciting weekend in the Scottish university ultimate scene saw the Scottish teams dominate the top of the leader boards at both UMIN and UWIN on their home turf in Motherwell.
Strathclyde men's and women's teams took home silver medals on Sunday, pipped to the post in both tournaments by regional rivals Glasgow in the men's division, and Edinburgh in the women's.
MEN
A total of six Scottish mens teams made the short trip to Ravenscraig to compete in Division 1, and a further two – including Strathclyde seconds, one of only three second teams in the entire tournament – to compete in Div 2.
Pool Play
Div 1 saw Strathclyde and St Andrews matched up early on in the tournament, both teams falling into Pool A where Strath dominated on Saturday to maintain their top seed position. Dark Horses kicked off the day with two intense match ups against Bath and Liverpool, coming out on top against each with their clinical offence and athletic shut-down D. Surrey's vert stack posed them no problems, and they went into their final pool game against Saints fired up and looking strong.
St Andrews, on the other hand, struggled a bit more during pool play. With two of their key players struck down from illness, and captain Gabe Schechter injured, they struggled amongst the strong teams in their pool, losing out to Bath. Initially going up against Strathclyde, the cool heads and good decision making of the opposition saw Horses to a 9-6 victory.
Pool B was another which showed the strengths of our Scottish teams, as Edinburgh won all their games to go into crossovers as second seed. Comfortable wins over Durham and Sheffield were followed by a close, physical game against Oxford, where they went three points down to start but brought it back with a huge layout block and a break to win and top the pool.
Pool C was a mixed bag for Dundee. Two wins against Imperial and Warwick allowed them to finish third in the pool but they suffered tough losses against Loughborough who forced them into lots of high stall scenarios, and Bath 2 where their frustrations poured out and caused chemistry issues for the team.
Glasgow and Aberdeen both fell into Pool D, where Aberdeen struggled with losses in all four intense but well-spirited games. Eventual winners Glasgow got off to a rough start themselves, losing their first game in sudden death against Birmingham, who came out firing and punished their lax defense. However, they managed to find their heads and use the smooth offence they knew they had to come out top in the following three hard-fought games, finishing second in the pool
Bracket Play
Seeding matches saw Glasgow, Strathclyde, St Andrews and Edinburgh into the top 8 to fight it out against each other at the top end of the tournament. Meanwhile, Aberdeen held their 18th seed for the whole weekend, managing to give some of their less experiences players an opportunity to play at a high level. At the end of the tournament, captain Edward Payne told us:
"The number of games that went to universe point shows how close the lower bracket was, and if we'd played better on Saturday maybe we could have done much better. Overall, huge congrats to the other Scottish teams for their dominance at the top – we had a really fun weekend."
Dundee came close to making the ¼ finals, after an exciting game against Sheffield: it looked like a lost cause at 6-4 down with 20 seconds to go, but they managed to push the game to universe and win 7-6. They then came out firing against Edinburgh, going three points up, but silly errors and drops lost them the game 8-6 and allowed Edinburgh to go on to the finals. A 12th place finish overall for Dundee was a little lower than captain Haydon Christou had hoped for, but the team performed well overall, with only a couple of sore results across the weekend.
Quarter Finals
Sunday was tough for Edinburgh, who suffered three losses to finish up the tournament in 8th position. Early mistakes in their ¼ against Strathclyde proved difficult to come back from, with Horses playing strong possession offence and managing to take the game away to make the semi-finals. Their next two hard-fought games against Loughborough and Bath could have gone either way, but Edinburgh struggled to seize every opportunity given to them. However, with the Edinburgh squad only losing two players after graduation this year, captain Chris Habgood is very optimistic that their top 8 finish shows a lot of promise for the future. Edinburgh also topped the spirit leader board at the end of the weekend, making it a clean sweep for Scotland across the tournament!
Farflungs ¼ final against Manchester showed that they'd managed to iron out the creases in their offence from earlier in the tournament, and they came out much more comfortable and confident than before. Calm, solid play from the Glasgow boys saw them take the semi-final spot after a tough fought game of a quality that could have been the final itself.
Semi Finals
The win over Edinburgh set Strathclyde up with a semi against Birmingham, who's athleticism and big plays had pushed Glasgow to the limit in earlier pool play. They ran Dark Horses hard for the full game, punishing their littlest mistakes, but a huge layout block from Gio Cabrera in their endzone pushed the game to universe point. The smooth, clinical offence that Strathclyde had been playing all weekend allowed them to take the win, and guaranteed the squad their first ever BUCS medal.
The semi-final matchup of Glasgow vs St Andrews is always a close and exciting one, as both teams know each other well and play a similar fiercely athletic game. St Andrews came into the game pumped from their ¼ final, where a point block on the goal line by Hannes Ludewig allowed them to take the win on universe point. In the semi, defence was tight on both sides, but individual errors stacked up for Saints and Glasgow punished them with their chilly offence to take the win.
Medal Matches
The bronze medal match between St Andrews and Birmingham was a great one for the spectators, with numerous huge plays from both sides. St Andrews again just missed out on victory and a bronze medal, but Schechter was proud of his team nonetheless:
"I can't believe any other team could have taken the injuries and illness we did and get to where we managed to end up so I'm incredibly proud of the team. For what at some points ended up being only 6 healthy bodies and a first tournament with the entire squad together its really a great result, although it doesn't always feel so good in the aftermath to come so close to the final and end up with nothing. We're really looking forward to outdoors where we can continue to utilize our depth like we did this tournament."
An all-Glasgow final was another spectator's dream: Glasgow and Strathclyde matched up for yet another important game this season. Strathy may have been favourites going in, but the higher experience level of Glasgow's roster allowed them to keep a bit of a cooler head in such a big game. Horses seemed a bit frantic at the beginning, while two layout blocks from Glasgow's Joel Terry in the first points allowed them to go three breaks up immediately. The captains called a spirit time out quite early on in the game, to discuss some apparent communication issues – a Glasgow derby is always a fiery one, and in a national final they really wanted to showcase the best ultimate that the city has to offer! After going down so early, Horses couldn't manage to bring the score line back into their favour, and Glasgow took the victory 7-4. Strathclyde Captain Andrew Warnock described their weekend overall as "phenomenal": with their women also picking up a silver medal, and their second team finishing 11th in Div 2, the strength and depth of this squad is looking very promising as they head into outdoor season – in Warnock's words, "scenes on toast."
After the final, Terry was also very congratulatory of the Horses team:
"They have incredible depth. I don't know what they're doing or how they've done it but creds to them. They are definitely favourites for outdoor season, I can't wait to see them again then!"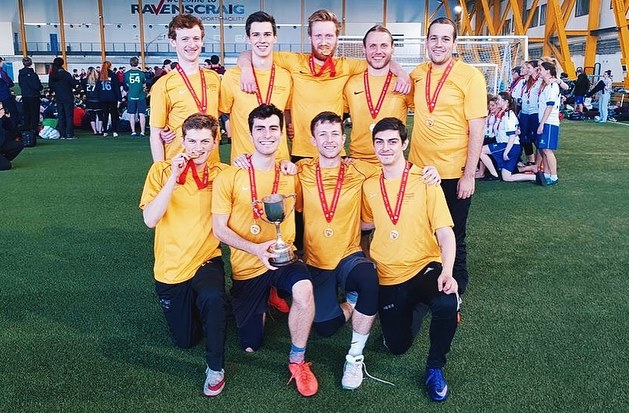 WOMEN
Another all-Scotland final in the women's division made this a very exciting weekend for our region, with 3/5 Scottish women's teams also finishing in the top 8.
St Andrews climbed up the seedings in the bottom bracket, finishing up in 17th place after being seeded last coming in to the tournament. Although their offence struggled against poaches set by some more experienced teams, the girls ran a successful zone defense through the weekend, winning their first two pool games and dominating their final games of the tournament: 6-2 against Warwick and 9-2 against Bangor.
The weekend started strong for the Glasgow girls, their poachy help defence and 3-2 offensive play winning them their first three pool games, but the latter half of their final game of the day against Bath was tainted by nerves and they finished up second in their pool. A Glasgow derby was the next match-up, a battle which always brings out nerves on both sides, and was dominated by Strathy for a 5-10 result. In the 8v9 crossover on Sunday morning Glasgow struggled against UCL's zone, and a disappointing 6-2 result saw them drop out of the top 8. Despite winning their next two games – feat Zsofi Marozsak callahan vs Imperial – the girls ended the tournament feeling as if they could have finished higher than their final 9th place.
After finishing second in their pool, Aberdeen were also matched up against Strathclyde for their ¼ final, in what was their most intense game of the weekend. A loss on universe point kept them out of medal contention, but they went on to win their next three games convincingly, to finish up in 5th – one spot better than last year, and securing Scotland three places in the top 5!
A very close loss to Hertfordshire in Strathclyde's first game of the weekend forced them to quickly ramp up their intensity, and they went on to dominate the rest of their games and crossovers to go into the final as top seed. Their semi-final against Huddersfield was an exciting one for players and spectators alike, both teams consistently getting breaks and bringing down hotly contested discs at the most important moments, with Strathclyde just managing to sneak a 10-8 victory.
Heading into the final, an Edinburgh-Strathclyde match up guaranteed the Scottish region another top spot. Strathclyde put up a valiant fight, but the depth of talent amongst the Edinburgh squad led them to a 6-4 victory, giving Strath their second silver medal of the weekend. Horses captain Hayley Dalmon reflected on what was overall a very successful weekend for her:
"I'm just immensely proud of my team and what we achieved together. Everyone on the team had moments of brilliance and I'm over the moon with the final result."
We also caught up with Kate Stafford, Edinburgh's women's captain, who was very excited about the talent on display across the tournament, and particularly amongst the Scottish teams:
"Overall, we were really impressed with the level of play at the tournament. All of our games on day 2 were hard fought. It was a really good showing for women's ultimate. I think because there was such a high standard of play at the tournament, it just made the win all the more exciting! I went into the weekend with the goal of taking first, and I think the whole team was focused and ready to make that happen. The depth of our team is really our biggest strength. Every team member contributed to every game, and I think we just continued improving as the weekend went on.
We weren't surprised to meet Strath in the final, and I know I welcomed a rematch from regionals. They're a very strong team and I think the level of the final showed that both teams had largely improved since regionals. And of course it was great to have an all Scotland final! All the Scottish teams showed the strength and athleticism of the region. Women's Ultimate in Scotland is definitely a community within itself, so I'm looking forward to how all the teams will push each other to improve in the future."