COIR and ScCWIN 2018: Review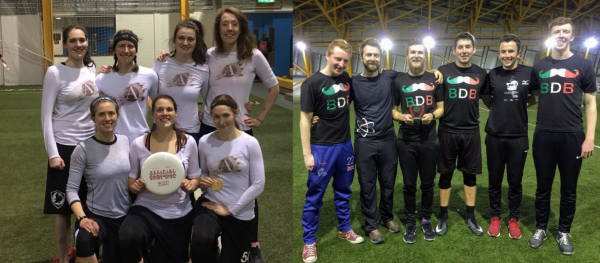 Last weekend teams from Scotland and Northern England descended upon Ravenscraig to compete in the Scottish Club Open Indoor Regional qualifier and the Scottish Women's Club Indoor National Championships. The sub zero temperatures and ample coverage of snow outside clearly justified the worth of an indoor season but claimed a victim in the form of Dundee's entire 3 team squad. This meant there were several holes in the schedule in both divisions and long gaps between games for teams with byes. Shaun Webb and Nicky Shaw take us through the action in both divisions.
COIR (Open Division)
The open division largely went to plan with all of the group games going to seed, however the absence of Dundee 1 meant there were opportunities for everyone in group D. The Brown 2 topped this group fairly comfortably ahead of Stirling 1 and Sneeekys 2 to take hold of the 4th seed and move into the quarters. Stirling appeared to have split their teams, or perhaps switched their firsts and seconds to give their top players a bigger test in the more challenging group B. The Brown would go on to be the surprise package of the tournament. With both of their teams performing strongly and finishing in the top 8 it was unclear how they had spread the talent in their squad. A minor upset in the crossovers saw Sneeekys 1 overhaul the higher seeded MUC 6-5 to reach the quarter finals where the tournament really kicked off.
As predicted, Dark Horses beat Rampant, opening up an early lead and staving off a late comeback to progress in the knockout stages. The Brown 2 won the battle of the brown, beating their firsts 9-6 to earn a semi final against the Strathclyde university team. In the lower half of the draw BDB continued their dominant run beating Sneeekys 14-2 and the Lizards of Bruntsfield comfortably dispatched Far-Flung 13-6 to set up a hotly anticipated semi final. This semi was a repeat of last years final which BDB edged on that occasion. This time around the Lizards could not cope with the energetic youth of their opponents and went down 12-7. In the other semi final everyone expected The Brown 2 to have finally met their match and start their decline back out of the qualifying spots, having so far avoided any of the big names on their path to the top 4. They put in an admirable show but couldn't cope with The Horses unified display of skill and athleticism, losing the game 8-6.
Lower down in the draw several teams were still fighting it out for a Nationals playoff position. Farflung and Rampant both won their "semis" and faced each other to keep their theoretical dreams of Nationals alive. The game started fairly flatly with both teams disappointed to be out of the main draw, but it turned into a sudden death classic as competitive spirit kicked in on both sides, Rampant taking the match 9-8. In the bottom 8 Merseyside were clearly rueing their loss in the crossovers and cleaned up the 9th place position with ease. They beat Dark Horses 2 in the plate final, who, due to the The Brown's exploits, couldn't quite live up to their pre-tournament tag as the strongest second team around but were clearly the best of the rest. The biggest upset of the weekend was perhaps in the bronze medal match where The Brown 2 justified their hype and defied expectations by defeating The Lizards of Bruntsfield in a sudden death epic. Lizards were perhaps deflated and exhausted after their semi final loss but The Brown's seconds made them pay for it and claimed a well deserved 3rd place overall. Lizards would finish the day in another sudden death game, this time against Rampant for a place at Nationals. This game swung both ways without either team ever leading by more than two. With several turnovers in the deciding point this could not have been any closer. In the end Lizard's superior aerial ability allowed them to claim the match and 4th place overall.
And so to the final, reigning champs BDB took on university powerhouse Dark Horses in a showdown predicted by many. Horses went down early in the game and it seemed like we were in for a repeat of their group match (tightly contested but with BDB able to outscore their opponents on a 2:1 ratio). One thing that defines this Horses team though is their spirit and willingness to fight for each other. They back their team mates, trust in their systems and turn on the heat when it's required. They clawed themselves back to within touching distance but in the end BDB were too good and won the final 10-7. Although this was BDB's closest scoreline of the day the outcome had a sense of inevitability. As reigning champs they looked even stronger this year and look set to dominate the Scottish indoor scene for years to come.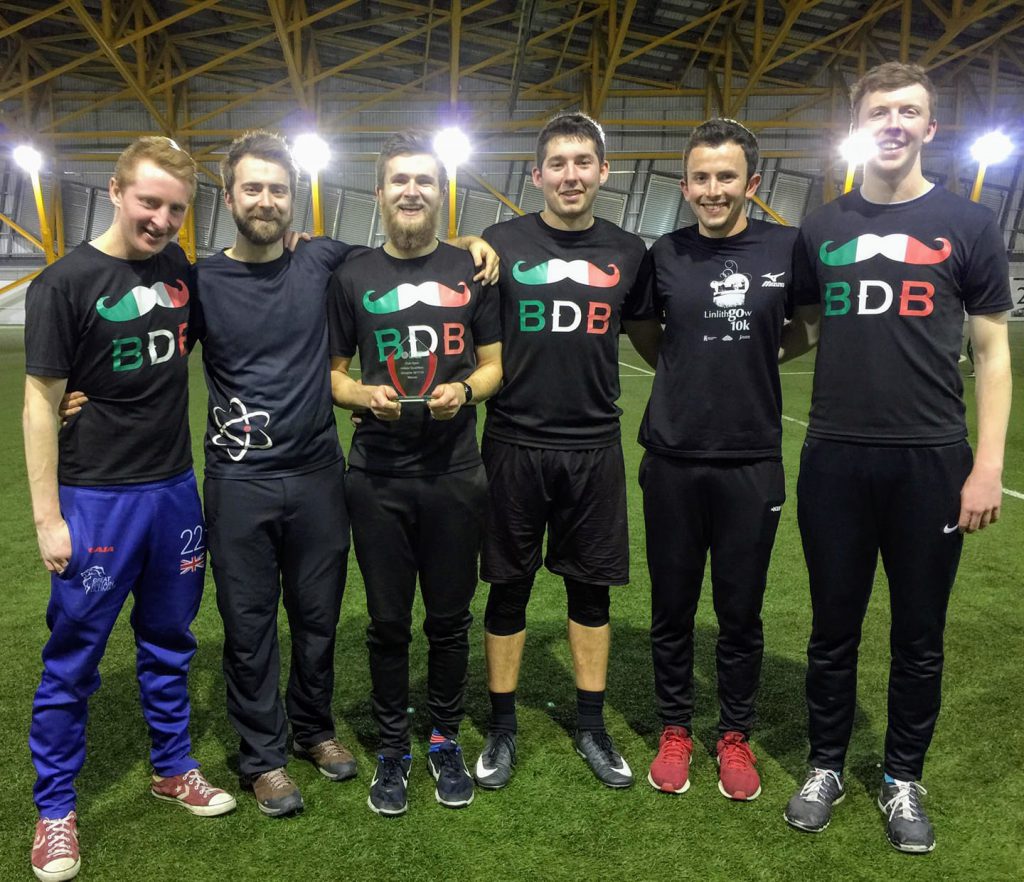 Final standings:
BDB*
Dark Horses 1*
The Brown 2*
Lizards of Bruntsfield*
Rampant
Farflung
The Brown 1
Sneeekys 1
Merseyside Ultimate Club
Dark Horses 2
Stirling Blaze 1
Sneeekys 2
Dark Horses 3
Stirling Blaze 2
*Qualified for Nationals
Team of the tournament:
In truth you could probably just choose any of the 5 BDB players here and you'd have an unbeatable team but throughout the tournament there were plenty of star performers that deserve some recognition. Bear in mind that I didn't see or play against every team (sorry The Brown 2) so this is all probably based on a highly skewed perspective.
Cameron Agnew: If you could choose one man to stand in the end zone for you it would be Cammy Agnew. He thrived isolated in deep areas, skying his opponents, shimmying expertly to score on the open side and toeing the line gracefully throughout the day. He probably racked up twice as many scores as anyone else, oh and he plays pretty good defence as well.
Matt Tomlinson: At the other end of the field Matt T was BDB's most composed handler. He used his stature to always to be free for an open pass, expertly shifted the disc around and dictated play, waiting for the right opportunities to take advantage of his team mates strengths. A linchpin in BDB's offense, without whom they could easily regress to a less directed style of aggressive play. It probably still would have won the tournament for them though…
Ben Cornelius: Ben's blistering speed and explosive leaps have always been evident but a new found confidence has seen him emerge from the end zone and take on a more active role in the Dark Horses team. Mackie and Shaw have been the stars of this team but the development of the players around them have really moved Strathclyde into the big time. Ben was virtually undefendable last weekend, got several key blocks and contributed as a highly talented all rounder.
Joel Terry: Joel is just 2 and a bit years into his playing career but has already asserted himself as one of the top university players and a future club star. His game is defined by the energy he puts in, leading Farflung by example on the pitch and remaining vocal and engaged from the sideline. You don't want this boy marking you if the disc is in the air, you know he'll be gaining on you, he can probably out jump you and you know he's definitely going to bid. It was a shame to see one badly timed layout result in heavy contact but otherwise he played fairly, passionately and inspired his youthful team.
Danny Hoyle: This team definitely needs another thrower so in this case I'm going to go with Danny Hoyle. A long term veteran of the indoor scene with national titles at club and uni level under his belt his experience is always key to any team. Danny's skills were on show for Lizards, both on the pitch and in the goal hack arena. His combination of perfectly weighted lefty blades and overheads meant his team could score from anywhere on the pitch and his confidence and presence of mind kept him unfazed throughout.   
ScCWIN (Women's division)
Scotland is currently the only region that runs a women's division alongside club open indoor regionals and as there is no qualifier for UK nationals this event has become the Scottish national championship. The format for the weekend was round robin with 2 pools of 5 and 4.
Pool A featured 3 of the favourites in AMAZONS, Ro Sham Bo and Farflung. AMAZONS came in to the tournament as reigning champs for several years running and made easy work of the games early on to top the pool convincingly. Ro Sham and Flung fought it out for second place in an epic overtime battle, with Farflung scoring the goal in a final point lasting several minutes. Elsewhere ELF put up a good fight against Ro Sham Bo, and Flungkadelic (a team of newbie Glasgow uni players) stuck in a few points against the big guns. Dark Horses appeared to have the easier side of the draw in pool B but were pushed all the way by ELF X. Both teams dominated the rest of the opposition and contested a tight 6-4 match which eventually ended in Horses' favour. Glesga Gals and Stirling were also evenly matched but Stirling took 3rd place with a 6-5 win.
Farflung continued their impressive run by beating Blaze 11-0 in the crossovers and Ro Sham Bo got their tournament back on track by overcoming ELF X 7-4. Resigned to life in the lower half, ELF X made easy work of their opposition to reach the 5/6 playoff where they faced their other half. I guess they got the balance of the teams right as this one ended 8-7 with ELF X earning the bragging rights. Further down it was great to see the less experienced teams finding their level and playing some competitive games.
AMAZONS stepped up their game in the semi finals by beating Ro Sham Bo for the second time in one day and by an even bigger margin. The second semi final threatened to end in similar fashion with Dark Horses accruing a 5-0 lead against Farflung. However, the Flung girls rallied to bring this one back to 5 all and forced the game into overtime. Some confusion about the scoring system meant that this game went on 2 points longer than it should have, but when the dust settled it seemed Horses had done enough to make the final. Ro Sham Bo ended the day strongly, getting revenge for their pool play loss to Farflung by beating them 6-5 in a tight 3rd place playoff.
In the final, AMAZONS dominance continued. Dark Horses were no doubt a little wounded from their semi but they could not match the depth, experience and physicality of the AMAZONS squad. So, no surprises, AMAZONS win again, but all credit to the girls in this team for playing as hard as they did all weekend and giving the other teams a level to aim for. Strong showings from Dark Horses, Ro Sham Bo and Farflung mean we will be watching these teams with keen interest as they compete at University Women's Indoor Nationals this weekend.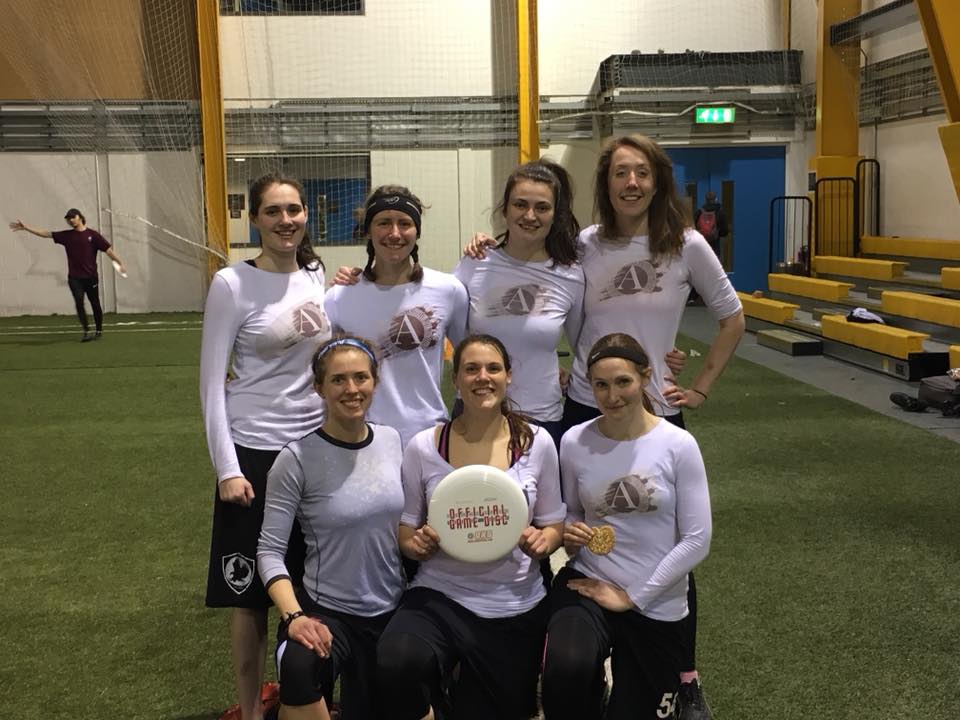 Final Standings
AMAZONS
Dark Horses
Ro Sham Bo
Farflung
ELF X
ELF
Glesga Gals
Striling Blaze
Flungkadelic
Team of the tournament:
Shona Whiteley:  One of her first tournaments back after her multiple knee surgeries, Shona played incredibly for AMAZONS both on offensive and defensive. If we didn't know that she had torn her ACL/MCL (which one was it?), I don't think anyone would have been able to tell! She has poured time and effort over the past few months into her physio with fantastic results. Well Done Shona!
Hayley Dalmon: Captaining the Strathclyde Women's Ultimate team, Hayley, as mentioned in the preview, was just back from her time at U24 World Championships in Perth, Australia. Her up-the-line cuts were basically unstoppable, along with her sick bids in the end zone for numerous scores. She has trained her team well and I wish them all the best at University Women's Indoor Nationals this weekend!
Kirsty Earle:  A shoutout to the newbie on the block, Ms Earle has found her feet in the Ultimate scene of Glasgow. Her fitness and stamina are unstoppable, she has vision to throw to the end zone and also the knowledge to swing and dump the disc when required. She deservedly landed one of the MIP awards (Most Improved Player) for the Glesga Gals last weekend.
Louise Pollard: Working hard in the capital to set up weekly women's session under the name "Edinburgh Ladies Frisbee", Louise has been one of the forerunners in the Scottish Women's scene to drive development and fun in Ultimate. Opening up training, pick up and skills sessions to ladies out with university and alumni is key to progress and increase the female population within frisbee. On pitch she played very well for one (of the two) ELF teams and was a key player in their line – proving that you can maintain and increase your skills and fitness whilst still helping others!
Kate Stafford: Staffie showed her gymnastic skills and her stamina for Ro Sham Bo with fantastic bids and agility. She is taking her university indoor team to Women's Nationals this coming weekend at Ravenscraig, good luck Ladies!
Video
We've put together a few (Glasgow heavy) clips from the Rampant and Farflung coach/cameraman as well as the real highlights, cricket and goal hack!