BUCS Preview: Strathclyde vs Glasgow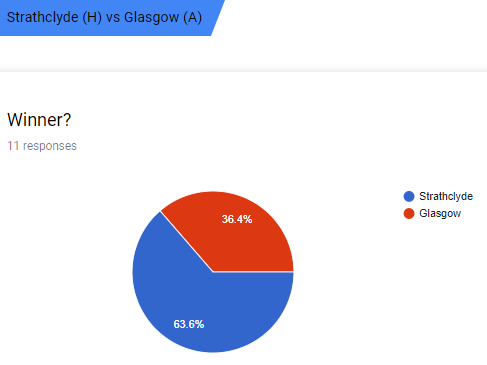 Strathclyde
The horses hunt for silverware has been impressive so far this season. Will they keep it up and see out the league, or are they happy enough to know that they'll be on their way to Div one and that the result here doesn't matter? Stupid question, of course they want to beat Flung
"Timothy to pray the night before, the Lord answers by smiting Sam for his years of sin, horses win by 4"
"Iain Tait to be injured and/or poorly"
"Strath will run faster, simple"
Predicted winning margin: 3 points
Glasgow
They've been quietly putting together a winning team after many thought that they would be stretched too thin this year. Make no mistake, Horses will be a tougher test for their depth than anyone they've come up against so far.
"Glasgow to lean on their seasoned veterans and mercilessly wear down Strathclyde's faceless army of skinny pasty boys. Close, fierce, feisty game. Natural order restored."
"McCulloch will not provide enough pressure for Flung to get a result"
"Glasgow will win just to annoy horses"
Overall
Key influencers:
"Jinja Ninja Spoicy IC will tip the scales Glasgow's way"
"Warnock will be confident, but he doesn't realise how good a handler mackie has become in his 9000 years of uni ultimate."
Take away message:
A Glasgow team will win, that one will see it as a significant sign of their dominance, the other one will not.
"Possibly the lowest quality, tightest Glasgow derby ever?"
"It's like the popular good guys against the unpopular bad guys, only this time the bad guys will win." – Ed: We've lost track of the state of Scottish Student Ultimate popularity politics; the suggestion that Flung might be more popular than Horses now is a bigger result than the outcome of this match..
Good luck to both teams!