BUCS Preview: Edinburgh vs Dundee (take two)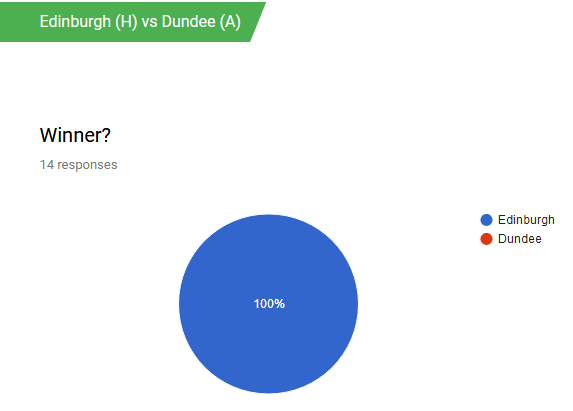 Time to mull it over hasn't prompted anyone to rethink the outcome of this match.
Dundee – they'll try.
The narrative here seems to be that they can put up a fight at the start but can't back it up.
"Dundee have the ability to play well and can work a disc up the pitch but still struggle to finish points off, Edinburgh getting quick counter attacks will likely be the difference."
"If Dundee field a team, there will be a match, doubt it'll go on for long "
Expect Edinburgh to win, don't expect to be entertained
Everyone seems to agree that Edinburgh are looking stronger this year but don't seem so enthused. We think Edinburgh might just surprise you and maybe all they need is a win or two to find their identity.
"This match will be incredibly uninteresting. I would rather watch quidditch"
"Dundee will get a couple lucky points but Ro Sham will storm ahead."
"dundee? more like dundee-saster, edinburgh for the win."
Predicted winning margin: 8 points
Overall
Key influencers:
"Asif to get a layout D on Dickers"
References to Gabes height: 3
Several controversial differences of opinion as to whether Lochlan's hair is "great", "amazing", or "Samson-like".
Take away message:
Good luck to both teams!