The Rise of Youth Ultimate
By Shaun Webb
It might be a cliche, but the youth are the future, there's no denying it. Very few (if any) Scottish players can claim to have grown up with a Frisbee in their hands. Most of us know Ultimate as a sport we picked up at university or perhaps played once or twice in PE at school. But imagine how much better we'd all be if we'd started playing at five years old. If there were school teams and tournaments and summer camps to join in with, and parents, teachers and coaches who all considered it a real sport!
To envision such a scenario, we only have to look across the Atlantic, where the youth scene sets North America apart from the rest of the Ultimate community. The world is starting to take note however and Ultimate is now one of the fastest growing sports amongst school aged children. WFDF and EFDF are putting more emphasis on junior competitions as well as coaching and training, and it seems to have started to trickle down to National organisations and regional clubs. Great Britain have always been at the forefront of European Ultimate but there are already signs that other nations are starting to overtake, due in large to an emphasis on their youth programmes.
There certainly seems to be more youth Ultimate happening in other countries, although it's not always clear what sort of organisation and long term structures are in place and may just be isolated pockets with underpaid social media marketing teams. In the UK, there are only a handful of youth teams, the majority of which seem to have been started by players who teach at schools. UKU do their best to promote school Ultimate and run a few national tournaments each year, but I'm sure most of these clubs suffer from a lack of local rivalry and surrounding structure. Unless all of our top coaches plan to get post graduate diplomas in education and infiltrate the world of academia, we need to find alternative strategies to drive the youth scene forward.
The GB junior teams have existed for many years with a lot of success, sending u17 and u20 teams to compete all over the world. They have inspired young players to join the game and to commit to Ultimate over other sports, given the clear pathway to international representation. However, this top down approach can only reach so far. Teams are generally composed of a niche group of kids, lucky enough to have had some contact with the Ultimate community at an early age and able to afford the time and money to train and compete on a national stage. Unfortunately, the majority of 14 year olds, stumbling across AUDL highlight reels and considering a life in Ultimate, either need to have a school teacher that plays, or be good enough and wealthy enough to play at international level!
I have recently been involved with the GB futures programme, a new project from UKU to establish regional training groups for players eligible for GB age group teams, including u24. The sessions have been well organised and benefited those who have attended with more one-to-one coaching and the opportunity to train with players their own age and receive advice from coaches they wouldn't otherwise interact with. It's a great addition for university players trying to bridge the gap to elite club and international level but it won't enrich the youth scene until a larger player base exists.
The GB setup does a good job of managing the top of the pyramid but the long term solution will require investment from the bottom up. In order to grow the numbers, we need more local opportunities for kids to try out the sport and to continue to play. We need junior club teams with regular training times rather than sporadic taster sessions. We need to get involved with local organisations and schools that run events and PE sessions instead of relying on the few Ultimate players that already hold these positions.
The most obvious starting point is with the clubs that already exist. Most major cities now have at least one Ultimate club and a network of players. Many of these clubs have a sole focus on playing competitive Ultimate but there are people putting time and effort into developing their local scene.
Reading is probably the prime example that everyone in the UK points towards as a development focussed club. Their goals seem to be aligned to grow all areas of the sport and their success is a by-product of solid organisation and the large numbers they are able to recruit. Their coaches have been heavily involved with GB youth teams and they now have several juniors wearing the Reading badge.
Before them, Brighton also put a lot of effort into forming an Ultimate community as opposed to a results focussed team and they were one of the clubs we took inspiration from when we drew up the Glasgow Ultimate blueprint. Our main goal was to provide local playing and training opportunities for players of all abilities in order to raise the critical mass. We recognised the potential to get involved in youth Ultimate, it definitely came up at every AGM, but it took us a while to really get going. We were always open to running taster sessions for local groups but this really only happened sporadically and when a group got in touch with us directly.
The activation energy was provided by contacts we made through Glasgow Sport after applying for local funding. The sports development officer was really keen for us to grow our club and provided us with lots of opportunities to get involved with schools, local events and community groups. We helped out at urban sports days, school holiday clubs and promotional events for the commonwealth games. We were then introduced to Active Schools, who deliver diverse sports sessions to primary and secondary schools and organise inter-school events. This has led to a steady stream of taster sessions and after school clubs and we've visited just about every school in the west end of Glasgow over the last few years.
We've also run sessions specifically for teachers, to introduce them to the sport in the hope that they will show it to their classes, and we donated a kit-bag of discs with a laminated 'Teaching Ultimate to kids' document which was passed around a different school every 6 weeks. The end game is to provide enough momentum for school Ultimate to become self-sufficient. In an ideal world, Ultimate would become part of the PE curriculum and schools would run their own clubs and organise local matches.
Last November, with the help of Active Schools, we hosted the first ever school tournament in Glasgow. We applied for funding to cover the event and hired out two indoor courts at Kelvin Hall. It was a great success with over one hundred kids representing twelve teams from various primary and secondary schools. We ran taster sessions at each school in the lead up to the event and several schools continue to run their own Ultimate sessions. We now have an outdoor tournament planned for May.
The biggest hurdle is always finding the right people to volunteer. Typically, students are flexible with time but often too inexperienced to lead sessions on their own, or they do what every useful student does and graduates and moves away. Experienced players and coaches are rarely available during school hours, but if you have a large enough pool of potential coaches then people are generally happy to rearrange things to help out at the occasional session.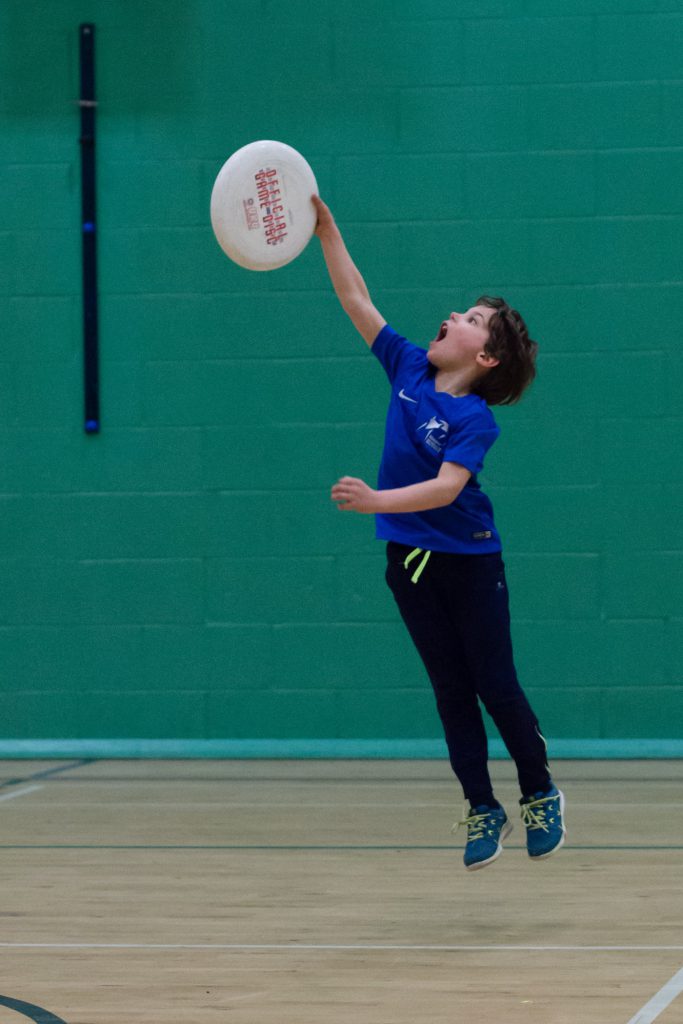 In 2017 we managed to get a Glasgow Ultimate junior team up and running. This was partly by accident as we had been running pick up sessions in a local park as part of the Park Lives initiative set up by Glasgow Sport to run free sports sessions open to anyone to drop in. Over the first three weeks I think we may have enticed three muggles to come and join us, but in the final week sixteen kids showed up from a local community group. They were instantly hooked and the lady in charge asked if a few of them could come back the following week. It was impossible to say no, especially as my son Noah had just turned six at the time and was incredibly excited by the prospect of having his own team of kids to play with. He had never mentioned it before, but apparently the adults could be a bit boring.
We continued these sessions throughout the summer and managed to recruit a few more players thanks to the parents and members of the sports club where we train. The kids wanted to continue playing through the winter so we managed to get use of a school hall, fully paid for by a Glasgow Sport grant. We've kept this going for the past five years. There has been some turnover in membership, with kids eventually leaving to concentrate on other sports and hobbies or moving away from the city. At one point we were as low as a group of six but we managed to revitalise by hosting a series of taster sessions. We now have seventeen members signed up between the ages of 10 and 17, each with their own GU kit.
As the kids have gotten older and more experienced we have tried to integrate them more into the club. Several of the older ones are now training with the adult teams and we have regular pick up sessions where the younger players mix in with the adults to get some big game experience. If you played at Spring Fling this past weekend you may have seen the five juniors we had attending from our club. For some of them, it was their first real tournament experience and they were incredibly excited to get to play. What's really lacking for them is the opportunity to play against other teams. I'm hoping the school tournaments will help to create a bit of competition for them and we are in the early stages of planning a trip this summer to take on some of the English teams.
The medium to long term aim is to have enough kids playing in Glasgow that we can run a youth league. I'd love for this to become a reality before Noah turns 18 as my ultimate goal is to become a weekend frisbee dad. I also hope that we'll eventually have age group teams, with other coaches getting involved with a younger generation.
The only other junior team in Scotland I'm aware of is Dollar Academy, which is run by Neil McEwan, a teacher who was a teammate of mine at Glasgow University. Several of his players have gone on to play at Scottish universities after being introduced to the sport at school. Dollar have attended Rookie Rumble many times and I believe they even toured Ireland for a few games. Neil has done a great job starting the club but I think it is a constant struggle against more highly regarded extra-curricular activities as well as the lack of opposition and competition. The Dollar kids are all a bit older than the group we currently have but we might be able to get a friendly organised one day.
Glasgow Ultimate has been part of a community sports hub at Hillhead Sports club for nearly ten years, where we rub shoulders with mainstream sports such as rugby, tennis and cricket. The overwhelming difference between our clubs is the level of youth participation and the number of non-playing volunteers. We are definitely a few generations behind these clubs, where adults bring their kids to play the sports they grew up with and retired players continue to support the teams in various volunteering roles. We may never reap the benefits of hitting the mainstream, but we can definitely do more to build the culture of our sport and find new channels of recruitment.
I think it's really important that as well as targeting new youth players, we also find ways to keep experienced adults involved in our sport. The Ultimate demographic is dominated by players in their twenties, with time to train and spare cash to travel. Most post-university playing opportunities require some form of commitment to a team structure, a full season of training and the ritual sacrificing of valuable weekends.
Social Ultimate is definitely on the up in Scotland, with more pickup sessions and regional leagues cropping up, but in general the opportunities to play local, recreational club ultimate are few and far between for adults with other commitments. If clubs can do a good job of retaining players even when they start to devote more time to families, careers and mortgages, they will no doubt tap into a deep well of experience and find they have an army of volunteers waiting on the other side, as well as a newborn generation raised with a Frisbee in their hands.
——————————————————
I would love to hear from anyone in Scotland that is involved in youth Ultimate or thinking about starting something new. I haven't figured out the formula yet but I'm sure I could offer some advice and I always benefit from hearing other people's thoughts and ideas.
I'll leave you with 5 tips on how to get started:
Ask the team you play for if they are interested in focussing on youth ultimate and volunteer to help out. If they aren't, then think about setting up a development committee with players/coaches in your area.
Make friends with people in the council. Active Schools and whoever runs sports development or community sports sessions in particular.
Apply for funding. There are loads of grants available for community projects that introduce young people to physical activity. Search the Sport Scotland web page as well as your local council's sports division and National Lottery funding.
Get your qualifications. Becoming a UKU registered coach is quite straightforward and will cover all of your liability if you would like to coach outside of your main club.
Get to know your audience. Most kids aren't interested in-depth strategy and tactics and they won't get much enjoyment if their first impression of Ultimate is failing to throw a forehand for forty minutes. Younger kids just want to have fun, so try to make every drill some sort of game. Let them develop at their own pace and learn the joy of playing the game first.