The current best of Scottish University Ultimate:
Todays article will be looking at the players who have been selected, via vote, to be on the Scottish University Indoor Dream-team.
Please enjoy and share.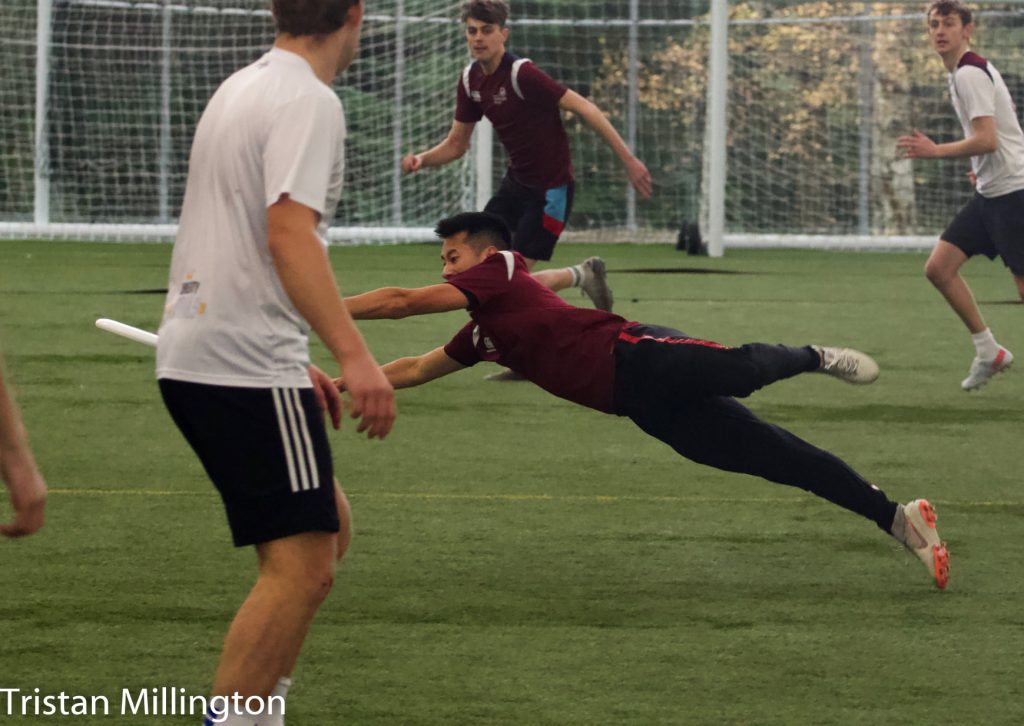 The Dream Team:
By Nick Byrne
The votes are in, and the peoples Scottish University Indoor Team of the Year has been decided.
The player from each gender with the most votes have been given the honour of captaining the team.
Congratulations to those that have made the team, there were a lot of people nominated, which goes to show the amazing depth of ability within Scotland.
So here is the team!
Ian Tait (c)
Caroline Charnley (c)
Nick Byrne
Erina Brown
Laurens Kok
Katie Trim
Fraser Park
Grace Seisel
Joel Terry
Ellen Barclay
Rachel Pollock
Ian Tait (Captain)
The only player to appear in every single person's team nominations, Ian Tait was a standout choice to be the men's captain for this team.
One of two members of this team that also made the Team GB indoor senior team this year, Ian has shown that there is more to his game than just height, although the height certainly helps. Ian helped Strathclyde to national gold and silver at UXIN and UMIN respectively, being one of the top scorers at both.
Caroline Charnley (Captain)
Caroline was another clear choice as captain, having considerably more votes than any other female player. This will not come as a surprise to anyone who watched the UXIN final where Caroline (or Carolinn, depending who you ask) put on an absolutely dominant performance and was a main driving force behind Strathclyde's gold medal victory.
Caroline was able to be both a confident and consistent handler as well as a dominant threat in the endzone, out-running and out-jumping everyone who tried to defend her.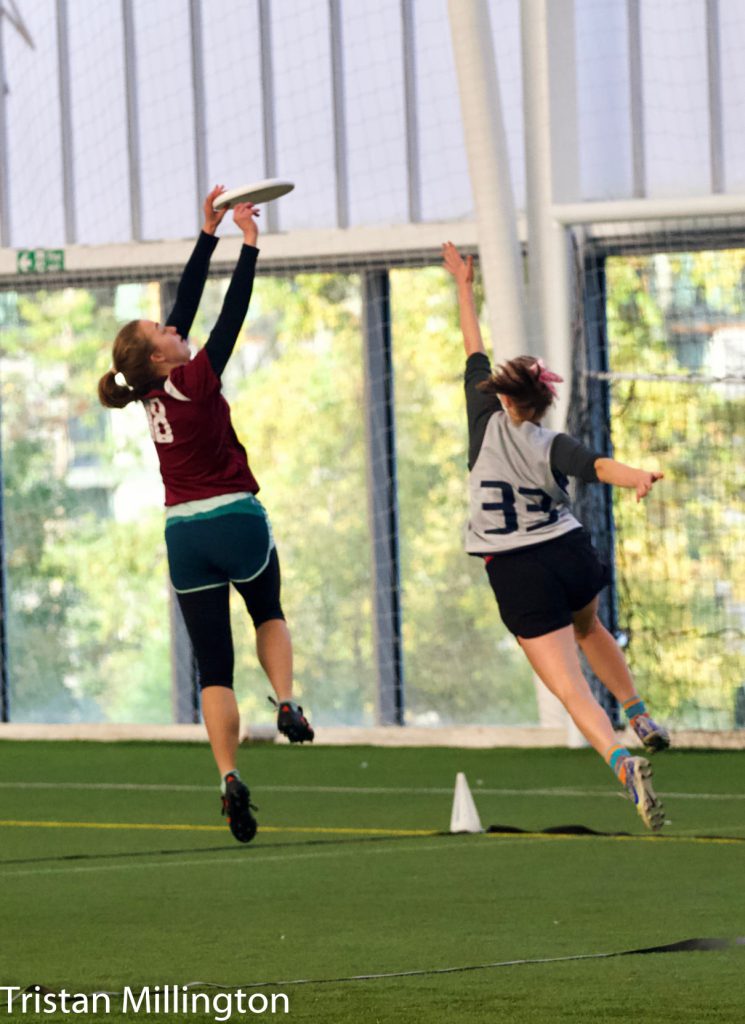 Nick Byrne
"Throws like a gift from God" – some random Leeds player 2022
Laurens and Ian are very good receivers, but they do require people to throw to them; Nick was stolen from Dundee this year to be one of those people. He is a quick and athletic handler, enabling him to often get free on the pitch to get the disc, and when he manages to get the disc, and Ian or Laurens is cutting towards the endzone, it is almost always a score.
It became clear both at UMIR and UMIN that the linkup from Nick to Ian was pretty difficult to defend and became a large part of Strathclyde's medal success.
Erina Brown
Erina has had a very strong indoors season, which includes a couple of silver regionals medals and a national gold medal. Her willingness to throw herself after discs both on offence and defence, leading to some incredible layout Ds, sets her apart from most other players at the university level.
Erina was able to come up with some vital turnovers at UXIN, where her defensive prowess was an essential part of Strathclyde's eventual gold medal.
Laurens Kok
"Laurens put on a show at mixed nationals, especially in the final"
This exact comment was put down on multiple explanations for people's team choices. If you want to watch the show in question, then go back and look at the UXIN final and you will see Laurens making catches in the endzone that he had no right to make.
Coming in as the Strathclyde men's captain this year there will have been a lot of pressure on Laurens shoulders, but a silver and a gold national medal go to show that he can handle this pressure, able to lead a team and make big plays in the moments that matter most.
Katie Trim
The second player who made this team who has also been selected for a Team GB indoor team this year. It is therefore to be expected that a player this good will make most people's dream team.
Katie has the ability to catch any disc which is thrown near her, by either team. She even has the rare honour of skying Ian Tait at UXIR in the final, helping St Andrews take home the gold (yes Tait, of course I am bringing it up again). Her hight and disc reading ability make Katie one of the most reliable and dangerous female players under a high disc there is at the moment.
Fraser Park
Fraser has been going from strength to strength in recent years and this university season has been no different. His speed and athleticism make him a player almost impossible to play defence on, in general if Fraser wants to get free somewhere on the pitch, then he will.
Further to this, Fraser is willing to layout for discs any time he is close enough, and with his speed he is usually close enough.
Fraser remains one of the main playmakers on a very strong St Andrews team this year and that goes to show just how skilful he is both on and off the disc.
Grace Siesel
This year's St Andrews woman's captain has proven at every tournament she has played this season why she has been trusted with the roll of captain. Her passion and enthusiasm for the game is very clear every time she plays, she brings all the hype and noise, and has the plays the skill to back it up.
Her sensational throwing and handler movement were a main part of the St Andrews domination of Scottish regionals in both mixed and women's, ensuring that they took home gold in both competitions. It is clear that you don't need height when you're the fastest player on the pitch and you are willing to layout for every disc.
Joel Terry
It seems that most people agree, when you make a team of the best university players in Scotland, Joel Terry is on that team.
Glasgow have been focusing on development mostly this season, but that has not stopped them still doing well at regionals and Joel was able to help the team to division 1 nationals in both mixed and men's.
Throughout his time at university Joel has won a multitude of medals and has come up with some stand-out highlight plays. When Joel is on the pitch any pass the other team makes is a risky one, he always seems to have the ability to get layout blocks from anywhere and has the speed and game knowledge to dominate any players who try to play defence on him.
Ellen Barclay/Rachel Pollock
Finally, these last two women could not be separated by the vote and so they have both earned a spot on the team.
Ellen started this year as the MIP of Scram's outdoor summer campaign, and so came into this university season with a lot of expectation, and she did not disappoint. Although she refuses to catch a disc with two hands, the one hand that she does use seems to be capable of catching anything. Ellen quickly became the go-to receiver for Dundee on both mixed and women's indoor lines, being tall and confident under the disc. She used this ability to get discs to great effect on defence as well, creating issues for the other team any time her mark was thrown to.
Ellen was a vital part of ensuring that Dundee women were able to make it to another indoor nationals.
Anyone that has seen Rachel play in recent years will be unsurprised that she made it onto this team. With Aberdeen not being able to enter a team into women's regionals this year Rachel took the opportunity to play in the men's (open) division and found that she was able to just as easily dominate her matchups on offence, consistently getting free and scoring in the endzone. She is a quick and athletic player who attacks every single disc, leading to her scoring most times she is on the pitch on offence, and punishing any lapse in concentration when she is on defence.
Rachels enthusiasm and all round frisbee skill make her not only an asset to any mixed or women's team she is on, but indeed to any team at all that she plays for.
So, there it is, the Scottish University Indoor Dream-team, as chosen by you.
What do you think? Would this team do well at a club level? Are there any underrated players who missed the cut?
Everyone that participates in this amazing sport deserves recognition, if there is someone you feel should have made this team, or really stepped up this season, then give them a message! Tell them how amazing they are.