BUCS Preview: Dundee vs St Andrews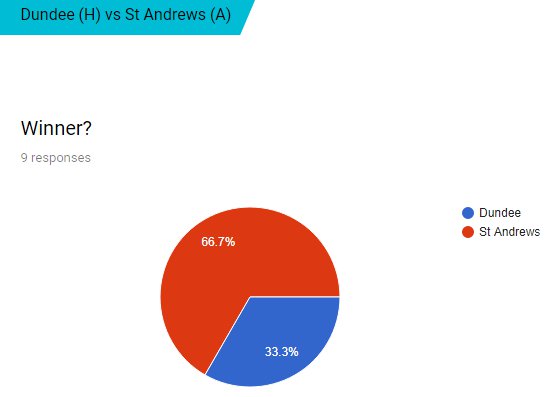 Dundee
So it's not been a great BUCS league season for Dundee but they've taken it well and even shown some fight at times. There is support for a Dundee victory but it seems more like wishful thinking than something people rationally believe can happen. Could a general lack of common sense work in their favour this time?
"Dundee to go 2 up and the home fans to sing "you're getting sacked in the morning" (Mourinho style) to Benji."
"Dundee will crack won't they. An opportunity to get one over their local rivals wasted."
"Surely Dundee can pull it together for one game?"
"You spelt Scumdee wrong"
St Andrews
It all started so promisingly for Saints with a win over the favourites and eventual winners. It must have seemed like a great foundation to build on but you can't help but think that they now feel like they've had the rug pulled from beneath them. No doubt there are reasons for it but the reality is they now need to win to preserve their div 1 status so only the result will matter.
"Three saints team in the 2nd league #DerbyDays"
"Saints 1 to get relegated while Saints 2 get promoted"
"As much as a Dundee upset would bring joy to Scottish ultimate, Saints will feel they need to redeem themselves and actually put up a fight this time, which I think they will."
Predicted winning margin: 3 points.
Overall
Key influencers:
"Who is Aidan Steer again? Didn't he used to play for Saints or is he exclusively concentrating on not (currently) playing for GB u24 at the moment?"
"Arek and his defending of Saints honour in the meme-wars of 2019"
Take away message:
"Dundee aren't great but sometimes think they are, St Andrews are only a little bit shit, but they kinda know it – so self awareness triumphs and Saints will take the W and just be relieved Mark Burton won't have to play in div 2 against their own 3rd team next year"
"This may be bottom of the table clash but is still going to be one of the most hyped games this year. All the Tayside Derby games this year have gone to within 2 points, most going to universe. This will be fun."
Good luck to both teams!